Do you already know what product you are searching for?
Find your perfect product
What is your main concern / main measurement task to solve?
Magnetic resolution (sensitivity threshold), i.e. the smallest measurable value?
Contact Senis for detailed information.
More
What kind of range do you need (nT)?
What kind of range do you need (nT)?
What kind of range do you need (nT)?
Magnetic field frequency bandwidth?
Congratualtions, we found the fitting product to fulfill your needs.
Get further details now and send us your product request or place your order.
3MTS USB handheld Teslameter
3-axis Hall probe
Measurement ranges: 100mT, 500mT, 3T, 20T
Measurement accuracy: <1%
F-bandwidth: DC – 500Hz
12-bit A/D conversion
EEPROM for calibration data
Wireles module option
Reference magnet option
Verison 1: Probe integrated in rigid carbon holder
Version 2: Probe connected by a thin cable
3-axis Nano-Teslameter
Measurement range: 1nT-0.1mT
Measurement resolution: 0.5nT
Measurement accuracy: <1%
1-, 2-, or 3-axis AMR probe
Field sensitive volume: 1.25 x 0.25 x 0.5 mm
Digital Gaussmeters/Teslameters and Analog Transducers with 1-, 2- or 3-axis integrated Hall and AMR sensors measure the magnetic field in the range of nT to 30T with an extraordinary magnetic resolution of 1ppm and an accuracy of less than 50ppm. The Hall probe's magnetic field sensitive spot of less than 100µm x 100µm includes horizontal and vertical Hall elements integrated in a single silicon chip. Various probe packages ensure the application of Magnetometers in industry and laboratory environments for temperatures of -40°C to +155°C. The Hall Probe is connected to the electronic module for further signal conditioning forming either a Magnetic Transducer with analog outputs proportional to the measured components of the magnetic field; or a Teslameter/Gaussmeter, which includes the LCD Display and a digital output through the serial PC interface.
01

Transducer - Analog
3-axis and single-axis Hall probes
High measurement range: 20mT to 20T
High magnetic resolution: <1uT
High linearity: <0.05%
High disturbance immunity
F-Bandwidth: DC to 75kHz
Temperature: -40°C to 155°C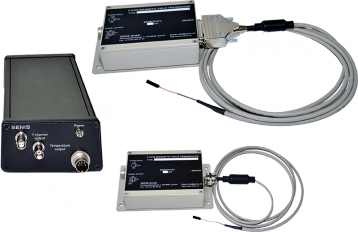 02

Teslameter - Digital
3-axis and single-axis Hall probes
High measurement range: 20mT to 20T
High accuracy: <50ppm
High magnetic resolution: 1ppm
Nano-Teslameter, resolution 0.5nT
LCD Display, USB interface
For industrial and laboratory applications
USB handheld Teslameter with wireless option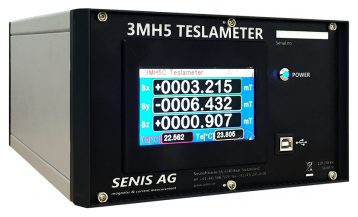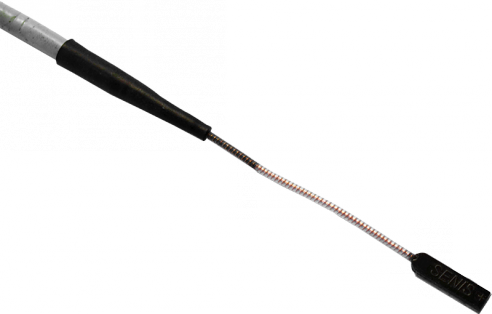 03

Hall Probes
Fully integrated single-chip 3D Hall probes
No planar Hall effect
Field sensitive spot 100µm x 100µm
Distance to magnet less than 300µm
Temperature -40°C to 155°C
Various probe packages