Clamp-On Open-Loop DC MicroAmmeter
The open-loop high sensitivity clamp-on Microammeters can measure direct currents down to 1 uA only. It can be used to indirectly measure and track leakage current through a fault in the insulation system of electrical machines. Measurement ranges 10mA to 10A. The MicroAmmeter is a clamp-on toroidal ferro-magnetic core with an air gap, in which the AMR sensors of a differential Hall magnetometer is inserted. The system includes a demagnetization circuit for the ferro-magnetic core and a PC software for data acquisition and visualization.
MicroAmmeter Head Dimensions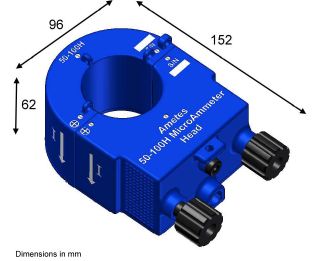 50-100H Current Transducer Head
Clamp-on head separable into two parts
Aperture diameter: 51mm
Dimensions: 152mm x 96mm x 62mm
Weight: 0.6kg
Output cable to amplifier: 1m
Sensitivity to external magnetic field: <5mA/50μT
Voltage isolation: ±5kV dc
MicroAmmeter Head and Amplifier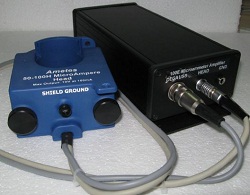 50-100E Current Transducer Amplifier
Sensitivity to primary current, SNOM: 100mV/mA
Tolerance of sensitivity: < ±10% of SNOM
Temperature coeff. of sensitivity: <±3%/°C
Equivalent primary current noise: ±10μA
Frequency bandwidth: DC to 1Hz (-3dB)
Maximum output signal: ±10V corresponding to ±100mA
Output signal source resistance: < 100ohm, short circuit proof
Dimensions: 230mm x 105mm x 67mm
Weight: 0.4kg
Output cable to system interface: 15m

MicroAmmeter Software screen sample
Data Acquisition & Visualization Software
The MicroAmmeter System is managed by a laptop PC with LabView software to control the High Voltage Power Supply output voltage and to acquire the instantaneous current outputs from the MicroAmmeter Current Transducer. The software includes averaging of the current readings and presentation of the data with selection of the scaling for the current versus time display. Data are acquired and displayed in real time for immediate analysis.